Tally.NET Service
What is Tally.NET?
Tally.ERP 9 provides a new capability Tally.NET which is available by default. Tally.NET is a framework which works in the background and provides a broad range of services using the Internet.
Using Tally.NET the user can access the company's data from a remote location using another instance of Tally.ERP 9; similarly a practicing Chartered Accountant working with Tally.ERP 9 Auditor's License can scrutinize the client's Tally.ERP 9 data remotely from the office.
At the client's place the system administrator has to create remote users with the permission to access or audit data from a remote location and assign controls based on their security level for the required company only. The remote user accessing the company data acts as clients to Tally.NET.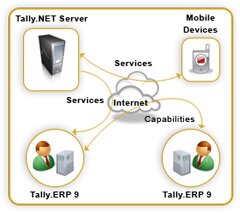 Features of Tally.NET :
Tally.NET is a default feature available in the product and provides a host of capabilities. Following is a list of capabilities available in Tally.ERP 9.
Connect companies from Tally.ERP 9.
Create and maintain Remote Users.
Remote availability of Auditors Edition of Tally.ERP 9 License.
Synchronization of data (via Tally.NET).
Remote access of data by any user (including BAP users).
Use online help and support capability from within Tally or the browser.
Support Centre to get instant access for support on functional and technical areas related to the product.
Control Centre to manage and centrally configure sites across locations.